Continuing on my journey to fill this sofa with lots of colorful throw pillows, I've been loving the watercolor trend: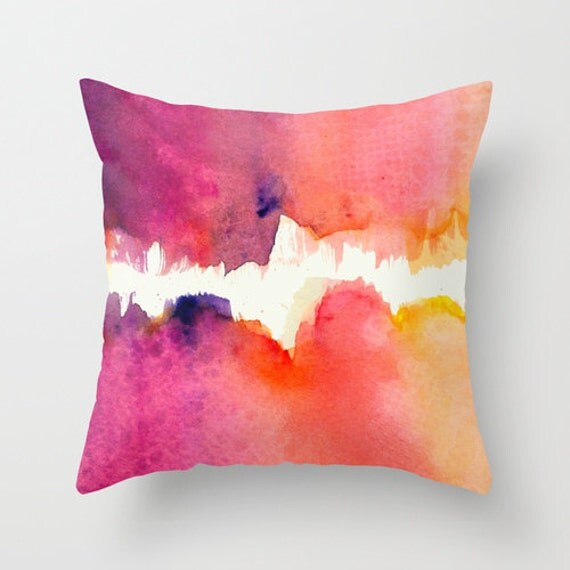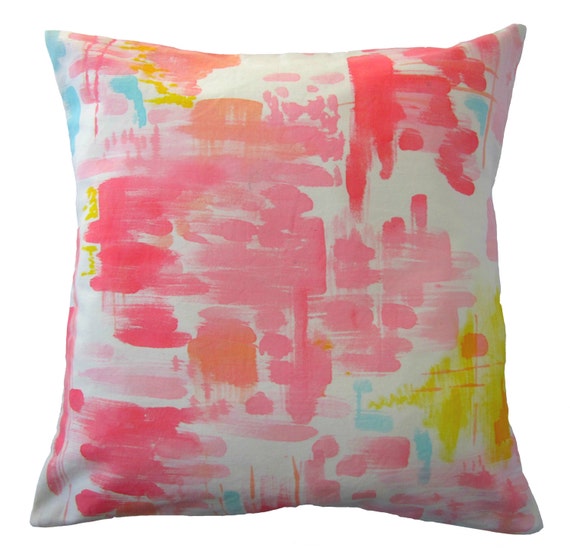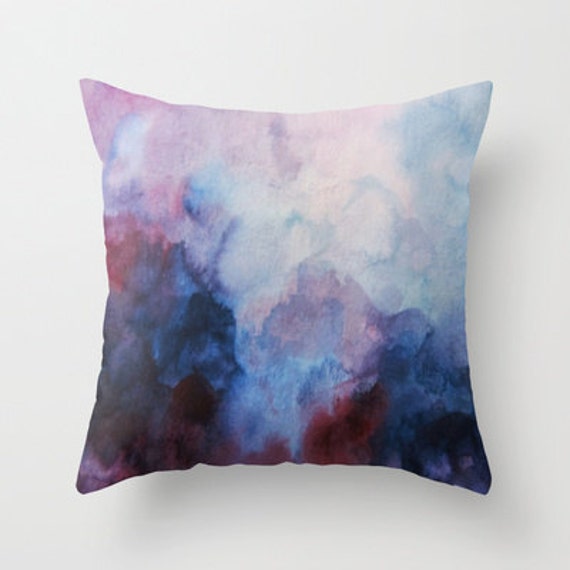 The ones above are all from Etsy and still available to purchase. From left to right, Foreverwars' digital print pillow 16×16 for $40, Kolorena's $40 hand painted 20×20 version, and  CASACreated's $30 16×16 printed pillow cover only.
You also might have seen a number of peoples DIY attempts at this trend with Sharpies and alcohol  most notably on Brit+Co, check it out here. I've set myself the goal of using only supplies I already owned to make the pillow covers sooooo Sharpies were out. I didn't have the right colors, and Sharpies are pretty pricey. I considered just using watercolors but they don't achieve a really bright saturated hue once dry. Derwent's Inktense colors are very saturated and I received a new tin of the blocks for Christmas, so I decided to try them:
I've used their pencils for years they are like a watercolor pencil, which writes like a regular pencil but moves and blends like a watercolor paint when exposed to water. The Inktense line, is a super pigmented version of that, which I absolutely love to work with. However, I didn't know how they would move on fabric. The left is before activating with water, and right is obviously after:
Here is another scrap piece of fabric I experimented on:
The Inktense product doesn't move nearly as much on fabric as on paper but with blending it did look quite a bit watercolor-y. So I moved on to the real pillow fabric. I used bleached muslin, which is much thinner than the upholstery cotton that I used for the test scraps. Any textiles you try to paint should be made of natural fibers, synthetics aren't going to take up color evenly if at all.
I cut fabric rectangles an inch or so larger in all dimensions than actually need for the finished pillow:
Laid one out on paper towels and started putting down color:
Here it was with a light spritzing of water all over:
And after I started going back through the damp areas with the blocks:
At this point I was pretty unenthusiastic with the results. The colors weren't blending in the way I hoped and I was pretty sure I wasn't going to like it so I didn't even bother continuing taking pictures. I laid down TONS more color, and crumpled the whole thing up then spritzed again to give a more tie-dye look.
I started another rectangle, this time wetting the whole piece first, and dragging the yellow block along in stripes:
I also crumpled this one up in different ways, from these first two attempts my favorite thing was the pattern on the paper towels underneath them:
I took the best pieces of the towels and laid them down to dry with the fabric squares:
I had two pieces of fabric left at this point and although I thought the patterns I made were kinda ugly I was enjoying playing so  I made two more. This time I laid the pieces on wax paper, hoping that the fabric would reabsorb the water and ink instead of just transferring it to the paper below. The wax paper did work better but I found out you have to be far more careful when moving the fabric. I dropped one of the rectangles back onto the wax paper on accident and all the water and ink still sitting there really muddied the pattern.
After drying overnight here are the four attempts:
This is the one I dropped into the water/ink and it turned pretty muddy, I also scrapped flecks of the blocks onto the fabric to give it the speckling:
The last one is my favorite and all the squares are a lot more vibrant than the pictures show. I'm not sure what I will do. None of these were exactly what I was hoping for. I think if I had more white fabric to experiment on I could do better, there was definitely a learning curve. I need to reflect on how to salvage this project, in the meantime though I did get some really cool looking paper towel prints: