Branches as home decor aren't really a trend so much as a tried and true decorating element. However, I've been seeing lots of rooms with branch arrangements lately. From left to right, The Rooster and The Hen's lovely white arrangement, The Homes I Have Made's natural and white floral branches, and from the DIY Network a willow branch arrangement: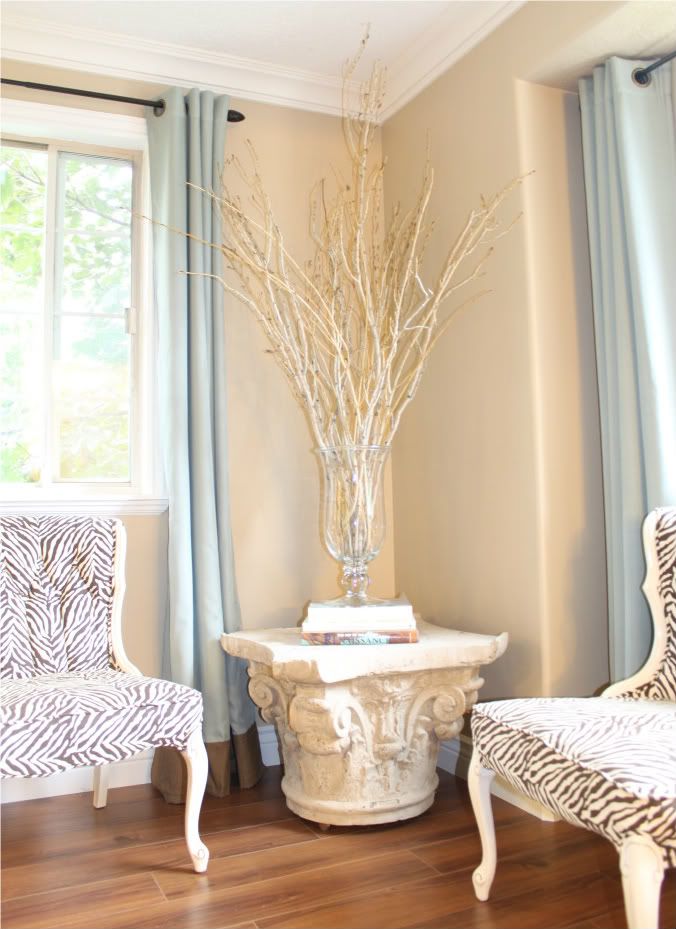 I was inspired to try it out. I really liked the idea of curvy white branches, and thought I might prefer the look (and ease) of store bought symmetrical ones. Though when I looked at Hobby Lobby's stick/grass collection, I was underwhelmed. Nothing really struck me right, the center white squiggly ones were my favorite but…
to make a decent sized bundle would have been to expensive for my taste.
Instead I went home and collected several larger branches, from my backyard. I brought them inside and started trying to arrange them.
I didn't know if I would even like how it looked so I just grabbed a heavy pitcher, threw some river rocks in for weight and stood the branches up.
After getting them upright and together, it was easy to see which branches need to be removed. I broke off that big lower right one, and the one on the left that sticks straight out. To arrive at this:
I added the removed limbs back into the bottom of the vase and stuck it in the corner:
It needed more height so I put the pitcher onto the mini dresser I recently acquired. To my surprise, I really liked how it looked. It needed some tweaking, a taller more substantial vase for one thing. Over the last week I've looked at Hobby Lobby, Target, Home Good etc… the closest were these:
From Target for $25. The right height but I just couldn't pull the trigger, too shiny? too generic? I don't know. For now I stuck the branches in this vases I bought a while back you might have seen it hanging out on my coffee table:
The sun reallllly likes to making taking picture in this corner ridiculous. I don't love the look yet… I love the height, I love the organic nature of the branches and until I find a stunning floor vase this works. Here is another low quality shot of the room late at night. (check out my in progress yellow repaint of The Great Wave!)